An open community for riding
and

wrenching.
The Cola Town Bike Collective is a non-profit bicycle shop. We provide full bike services and new and used parts. Our programs include providing low cost and no cost service to folks who rely on their bikes as their only form of transportation. We partner with organizations to provide free bikes to those in need.
For more information, please see our 2022 Impact Report.
The Bicycle Repair Network
We have outfitted Columbia with a grid of bike repair stands, free for anyone to use.
The Reliable Transportation Initiative
Donating and maintaining refurbished bicycles to those in need of transportation throughout the Midlands.
Meet Sprocket,
your new riding buddy.
We built Sprocket as a free web application to connect the Midlands by building a modular, scalable network of safe routes specifically for cyclists.
Become a Member
of the

Collective
The Cola Town Bike Collective now offers multiple membership opportunities, an excellent way to help support us as a non-profit so that we can continue to have amazing concerts, events, and fundraising activities at our shop. In return, you'll receive many members-only perks such as free tune-ups, swag, and private members-only party events, and more!
Spring blowout sale! All bikes, components, parts, racks, bottles, cages, used parts, etc. are 15% off! Bikes starting at $60! If you already have a perfectly rad bike and just want us to do a Spring safety check or tune, feel free to bring it in! Simple checks/work...
read more
Shop Associate Job Title: Shop Associate Department: Bike shop, general Reports To: Executive Director Compensation: Starting at $14/hour (up to $17/hr after 90 days) Hours: Up to 30 hours, Monday through Saturday, flexible scheduleAbout Us:The Cola Town Bike...
read more
What a fantastic year! Before we review the incredible successes of 2022, all of us at CTBC want to thank all of our incredible supporters for Saving Our Shop! From the bottom of our hearts, THANK YOU! 2022 feels like a stand-out year in the 7 year history of the Cola...
read more
The Cola Town Bike Collective is in danger of losing our location at 711 Elmwood, which puts our entire mission at risk. We were recently informed that our landlord is looking to sell the building we've called our home for almost half a decade. Our shop...
read more
Last year, with your help, the Cola Town Bike Collective raised $13,391 during Midlands Gives which put us as the 3rd largest fundraiser for small nonprofits! What's just as amazing is that we had 160 unique donors, 160 individuals who chose to support us! Thank you...
read more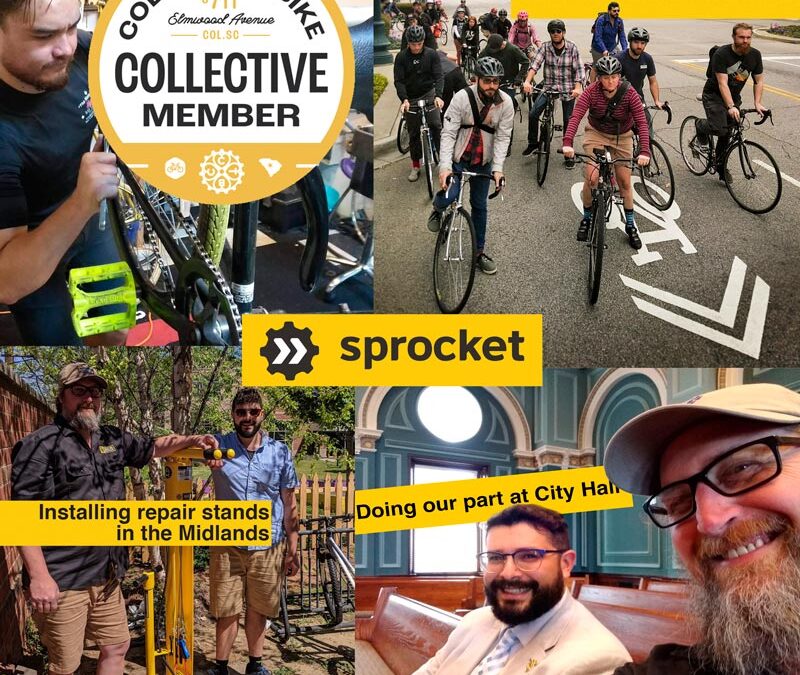 Cola Town Bike Collective's 2021 Impact Report 2021 was a BIG year of growth for the Cola Town Bike Collective. We were able to hire our first full-time employee and executive director, Scott Nuelken, which has allowed the shop to be open 5 days a week and really let...
read more
As we are coming to the end of March, I wanted to share some of the exciting things happening this year with the Cola Town Bike Collective. We have been busy this year and are excited about things to come this spring! As we rolled into 2022, we have cultivated our...
read more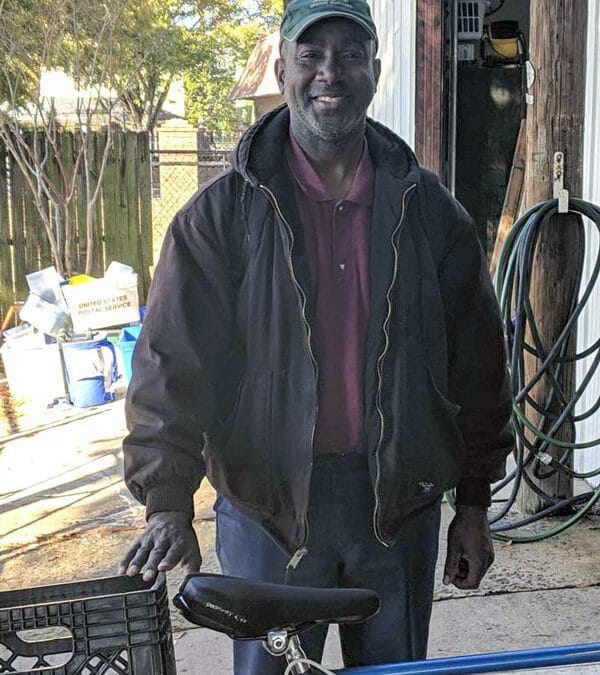 Timothy was walking 5 miles each direction to get to work to support his family. But with a single, minimum-wage income supporting two children and himself, Timothy couldn't afford a car to get to work, and the bus timetable didn't align with his working hours. Until...
read more
Dear friends, This week Cola Town Bike Collective celebrated its fourth birthday: four years ago, we were incorporated as a 501(c)(3) organization. In that time, we've upgraded shop spaces twice, installed bike stands across Columbia, launched a web app called...
read more
More News
View our full archive of blog articles here.
Upcoming Events
The full list of upcoming projects, concerts, and community engagement opportunities.
There are no upcoming events at this time.
We serve our neighbors from our community bike shop at 711 Elmwood Avenue in Elmwood Park. Look for our sign at the entry ramp to I-126 — you'll recognize the whirligig and the mural by Columbia artists Clark Ellefson and Trahern Cook and Maisie Cook Lawson.
Shop Services
As a full service bike shop, we provide tune-ups, wheel truing, hydraulic service, and custom build projects. We also allow members of the community access to our facility, work stands and tools if they would like to work on their own projects.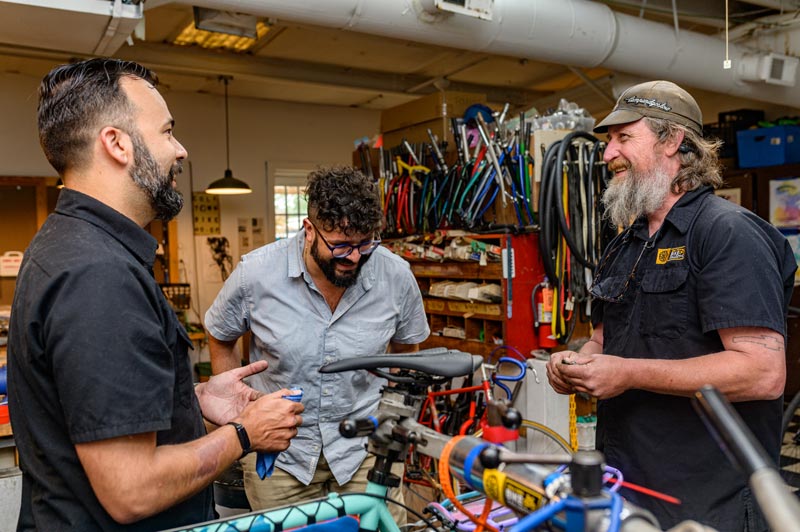 Volunteer Sign Up
We're always on the lookout for helpful volunteers around the shop and during events. No matter your level of mechanical experience we can an extra pair of hands. Contact us to see what opportunities we have available.
Our inventory of donated and refurbished bicycles is always changing. Check our inventory page or come by the shop to see what we have in stock. Updated weekly each Sunday.
As a nonprofit our organization relies on community support. Use the links below to make a one-time donation and learn more about becoming a partner.
Make a Donation
Your donations help us continue to serve our neighbors as a community bike shop. Every dollar you donate works hard to help us help others.
Become a Sponsor
Corporate sponsorship provide long-term support in our mission throughout Midlands. The aid of these organizations have been vital to our success over the years.